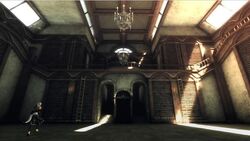 The Library is a building in NieR. The original is located in Nier's Home Town, while a recreation of it appears in The Tower.
Information
Edit
Weiss, you dumbass!
SPOILER ALERT - Plot details for NIER follow.
The Library is where Popola resides and it is also where many quests can be received. During the massive Shade attack on the village, the Library is used as a refuge for the villagers. Just prior to the timeskip, the giant shade known as the Jack of Hearts is imprisoned in the lower level of the building.
It is permanently damaged when the Shadowlord attacks it.