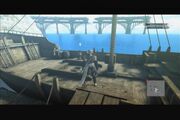 Seafront is the large trading town to the south of Nier's home town. It overlooks the ocean and has many shops to visit. It is also where the fishing side quest will begin, after speaking to the Fisherman.
Seafront is a town with a warm climate that is regulated by the sea. It also has an abundance of seafood and other food resources. The size of the town is the biggest in the nearby area, and it trades often with other countries.
The highest platform in the town is the lighthouse, with clear view of the town from the top.
Since the town is right by the ocean, there are many different fish to catch. Most of them are available from any part of the town, however, the shaman fish are only available by the hidden beach which is next to the lighthouse. Also on the hidden beach, during the first part of the game, are seals that bask in the sun. The people in Seafront worship the seals as guardians of their town.
First beach
Hidden beach
Shops
Tavern
Trading ship
Item Shop
Edit
Initial Merchandise:

Edit

Expanded Merchandise

Medicinal Herb 100 G
Health Salve 1,000 G
Antidotal Weed 600 G
Strength Drop 500 G
Magic Drop 500 G
Defense Drop 500 G
Spirit Drop 500 G
Speed Fertilizer 300 G
Bounty Fertilizer 300 G

Recovery Potion 8,000 G
Strength Capsule 1,600 G
Magic Capsule 1,600 G
Defense Capsule 1,600 G
Spirit Capsule 1,600 G
Tackle Shop
Edit
Initial Merchandise:
Expanded Merchandise

(variety added as you catch new types of fish)

Edit

Lugworm 10 G
Earthworm 10 G
Lure 100 G

Sardine 250 G
Carp 200 G
Shaman Fish 300 G
Fishmonger
Edit
(variety added as you catch new types of fish)
Sardine 250 G
Blowfish 350 G
Rainbow Trout 1,200 G
Bream 1,500 G
Black Bass 3,000 G
Sandfish 5,000 G
Royal Fish 8,000 G
Blue Marlin 3,800 G
Hyneria 12,000 G
Shaman Fish 300 G
Grocery Store
Edit
Melon 1,200 G
Gourd 600 G
Beans 360 G
Rice 600 G
Royal Fern 150 G
Mushroom 800 G
Bean Seed 35 G
Rice Plant Seedling 60 G
Dahlia Bulb 40 G
Tulip Bulb 50 G
Freesia Bulb 80 G
Red Moonflower Seed 120 G
Gold Moonflower Seed 120 G
Blue Moonflower Seed 120 G
Material Shop
Edit
Shell 100 G
Gastropod 500 G
Bivalve 300 G
Pearl 3,000 G
Moldavite 5,000 G
Natural Rubber 700 G
Blacksmith
Edit